Monthly Archives:
March 2017
Recently I finally bit the bullet and decided to bring the vCenter portion of a vSphere environment up to version 6.5.  Since the migration from a Windows based vCenter to the VCSA is now a supported path I thought it would also be a good time to migrate to the appliance as well.  So with that I ran through a few blogs I found in regards to the migration, checked out the vSphere Upgrade Guide and peeled through a number KB's looking for gotchya's.  With my knowledge in hand I headed into the migration.
At this point I had already migrated my external windows based PSC to version 6.5 and got started on the migration of the windows-based vCenter Server.  Following the wizard I was prompted for the typical SSO information along with where I would like to place the appliance.  The problem though came when I was prompted to select a deployment size for my new VCSA.  My only options available were Large and X-Large.  Might not be a big deal if in fact this environment required this amount of resources – Looking at the table below those deployment sizes are scoped to fit at a 1000 host and above mark.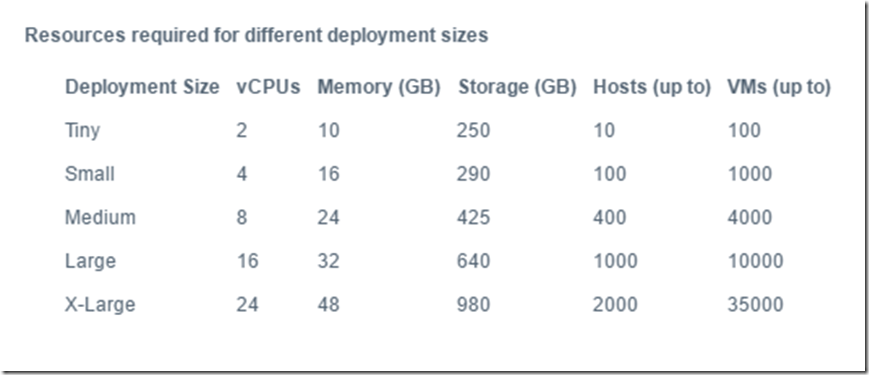 Did this environment have 1000+ hosts and 10000+ VMs?  Absolutely not!  At its largest it contained maybe 70 hosts and a few hundred VMs running on them – a Small configuration at best, medium if you want to be conservative!  At first I thought maybe I was over provisioned in terms of resources on my current vCenter Server – but again, it only had 8 vCPU's and 16GB of RAM.  With nothing out of the ordinary with vCenter itself I turned my attention to the database – and that's where my attention stayed as it was currently sitting at a size of 200GB.  Honestly, this seemed super big to me and knowing that it had been through a number of upgrades over the years I figured I would make it my goal to shrink this down as small as possible before trying again!  TL;DR; version – The database was the culprit and I did end up with the "small" option –  but I did a number of things after a frenzy of Google's and searches – all listed below…
WAIT!!!!  Don't be that guy!  Make sure you have  solid backups and can restore if things here go sideways – engage VMware GSS if needed – don't just "do what I do" 🙂
Reset the vpx provider
The vpx data provider basically supplies the object cache for vCenter – caching all inventory objects such as hosts, clusters, VMs, etc in order to provide that super-snappy response time in the vSphere Web Client 6.0 (Is this sarcasm?).  Anyways, resetting this essentially will reduce the size of our Inventory Database.  Now, the problem in versions prior to 5.5 Update 3 is that there was no way to reset individual data providers – in order to do one you had to do them all – and that meant losing all of your tags, storage profiles/policies, etc.  Thankfully, 5.5 U3 and 6.0 allows us to simply reset just vpx, leaving the rest of our environment in-tact.  In order to do so we must first get into the vSphere Inventory Managed Object Browser (MOB) and get the UUID of the vpx provider.  **NOTE, this is different than the MOB you may be used to logging into, see below ***
First, log into the Inventory Service MOB by pointing your browser to https://vCenterIP/invsvc/mob1/    From there, simply click the 'RetrieveAllProviderConfigs' link within the Methods section as shown below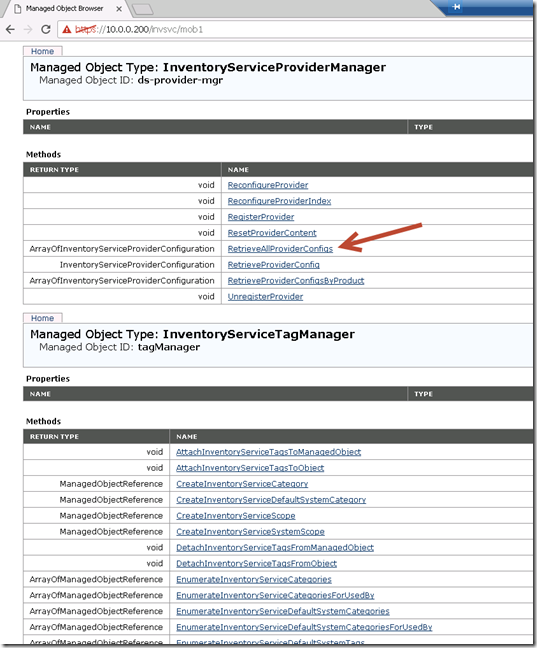 In the pop up dialog, click 'Invoke Method', then run a search for vpx

It's the providerUuid string that we are looking for – go ahead and copy that string to your clipboard and return to https://vCenterIP/InvSvc/mob1/ – this time, clicking the 'ResetProviderContent' link under Methods.  In the pop up dialog, paste in your copied UUID and click 'Invoke Method' as shown below…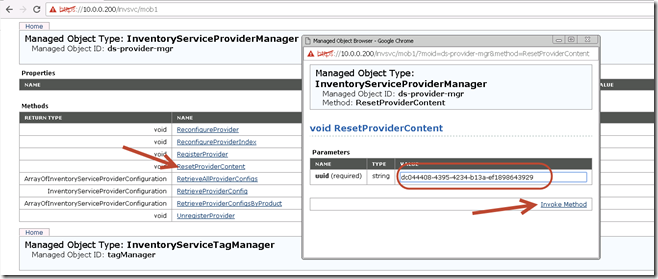 After a little while the window should refresh and hopefully you see no errors!   The process of resetting for myself took roughly 5 minutes to complete….
Getting rid of logs
Although vCenter does its own log rotation you may want to check out and see just how much space your logs are taking up on your current vCenter server before migrating as some of this data is processed during the migration/upgrade.  I freed up around 30GB of disk by purging some old logs – not a lot, but 30GB that didn't need to be copied across the wire during the migration.  There is a great KB article here outlining the location and purpose of all of the vCenter Server log files – have a look at it and then peruse through your install and see what you may be able to get rid of.   For the windows version of vCenter you can find all of the logs in the %ALLUSERSPROFILE%\VMware\vCenterServer\logs\ folder.  I mostly purged anything that was gzipped and archived from most of the subfolders within this directory.  Again, not a difference maker in terms of unlocking my "Small" deployment option – but certainly a time-saver during the migration!  So what was culprit that was not allowing me to select "Small" – yeah, let's get to that right now…
My Bloated vCenter Database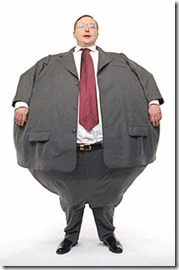 Yeah, 200GB is a little much right – even after resetting the vpx provider and shrinking the database files I was still sitting pretty high!  So, since I had no intention of migrating historical events, tasks and performance data I thought I'd look at purging it before hand!  Now if you have ever looked at the tables within your vCenter Server database you will find that VMware seems to create a lot of tables by  appending a number to the VPX_HIST_STAT table.  I had a lot of these – and going through them one by one wasn't an option I felt like pursuing.  Thankfully, there's a KB that provides a script to clean all of this up – you can find that here!  Go and get the MSSQL script in that KB and copy it over to your SQL Server.  Once you stop the vCenter Service we can simply run the following command via the command prompt on our SQL Server to peel through and purge our data.
sqlcmd -S IP-address-or-FQDN-of-the-database-machine\instance_name -U vCenter-Server-database-user -P password -d database-name -v TaskMaxAgeInDays=task-days -v EventMaxAgeInDays=event-days -v StatMaxAgeInDays=stat-days -i download-path\2110031_MS_SQL_task_event_stat.sql
Obviously you will need to assign some values to the parameters passed (TaskMaxAgeInDays, EventMaxAgeInDays, & StatMaxAgeInDays).  For these you have a few options.
-1 – skips the respective parameter and deletes no data
1 or more – specifies that the data older than that amount of days will be purged
0 – deletes it all!
For instance, I went with the 0, making my command look like the following….
sqlcmd -S IP-address-or-FQDN-of-the-database-machine\instance_name -U vCenter-Server-database-user -P password -d database-name -v TaskMaxAgeInDays=0 -v EventMaxAgeInDays=0 -v StatMaxAgeInDays=0 -i download-path\2110031_MS_SQL_task_event_stat.sql
After purging this data, and running a shrink on both my data and log files I finally had my vCenter database reduced in size – but only to 30GB.  Which, in all honesty still seemed a bit large to me – and after running the migration process again I still didn't see my "Small" deployment option.   So I went looking for other large tables within the database and…..
Hello VPX_TEXT_ARRAY
It's not very nice to meet you at all!!!  After finally getting down to this table – and running "sp_spaceused 'VPX_TEXT_ARRAY'" I found that it was sitting a whopping 27GB.  Again, a flurry of Google!  What is VPX_TEXT_ARRAY and what data does it hold?  Can I purge it?  Well, yes….and no.  VPX_TEXT_ARRAY, from what I can gather keeps track of VM/Host/Datastore information – including information in regards to snapshots being performed on your VMs.  Also from what I can gather, from my environment anyways, is that this data exists within this table from, well, the beginning of time!  So, think about backup/replication products which constantly perform snapshots on VMs in order to protect them – yeah, this could cause that table to grow.  Also, if you are like me, and have a database that has been through a number of upgrades over the years you may end up having quite a bit of data and records within this table as it doesn't seem to be processed in any sort of maintenance job.  In my case, 7 million records resided within VPX_TEXT_ARRAY.  Now, don't just go and truncate that table as it most likely has current data residing in it – data vCenter needs in order to work – there's a reason it tracks it all in the first place right?  Instead, we have to parse through the table, comparing the records with those that are in the VPX_ENTITY table, ensuring we only delete items which do not exist.  The SQL you can use to do so, below…
DELETE FROM VPX_TEXT_ARRAY
WHERE NOT EXISTS(SELECT 1 FROM VPX_ENTITY WHERE ID=VPX_TEXT_ARRAY.MO_ID)
A long and boring process – 18 hours later I was left with a mere 9000 records in my VPX_TEXT_ARRAY table.  Almost 7 Million removed.  Just a note, there is a KB outlining this information as well – in which it says to drop to SINGLE_USER mode – You can if you wish, but I simply just stopped my vCenter Server service and stayed in MULTI_USER so I could check in from time to time to ensure I was still actually removing records.  an sp_spaceused 'VPX_TEXT_ARRAY' in another query window will let you track just that.   Also, it might be easier, if you have the space, to set the initial size of your transaction logs something bigger than the amount of data in this table.  This allows SQL to not have to worry about growing them as it deletes records – you can always go back in the end and reset the initial size of the tlogs to 0 to shrink them.
So – a dozen coffees and a few days later I finally ran another shrink on both the data and log files, setting their initial sizes to 0 and voila – a 3GB database.  Another run at the migration and upgrade and there it was – the option to be "Small"!  Again, this worked in my environment – it may not work in yours – but it might help get you pointed in the right direction!  Do reach out if you have any questions and do ensure you have solid backups before you attempt any of this or anything you read on the net really

  Also, there's always that Global Support Services thing that VMware provides if you want some help!   Thanks for reading!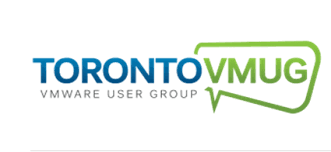 Ahh Spring –  Most people describe this as a time where the rain falls and cleans everything up around us – flowers blooming, grass growing – a sign of warmth to come!  In Canada though, it's a sign of giant muddy snow piles full of gravel, salt and sand from all of the plowing and shoveling performed all Winter long – for me, it's a muddy white dog and two little munchkins tracking muck all over the house – All that said, there is some hope for Spring this year!  March 23rd marks the date for our next Toronto VMUG UserCon – so, if you want to escape the mud and the muck come on down to the Metro Toronto Convention Centre this Thursday and join 600+ of your peers for some great learning, technical sessions and some awesome keynotes!  We've got a great one planned this year and I just wanted to highlight some of the keynotes and sponsors we have lined up for Thursday!
First up – Mr. Frank Denneman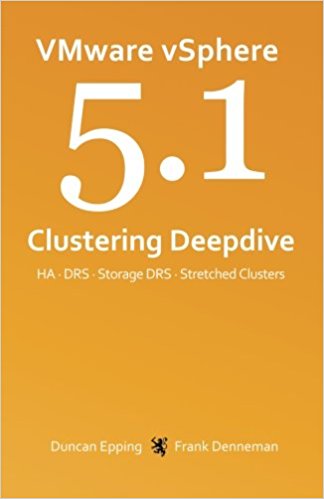 Over the years we have been lucky enough to have some awesome keynote speakers for our UserCon – this year is no exception!  I'm super excited to hear from Frank Denneman!  If you don't know who Frank is let me try and enlighten you a little – this man literally wrote the book on DRS – three times!   The "HA and DRS/Clustering Deepdive" books – written by Frank and his co-author Duncan Epping are honestly one of the greatest tech books ever.  It's written in a text that is easy to read, and has literally taught me so much about HA and DRS I can't even begin to explain it all!  Certainly a must read for any VMware admin.  Frank moved on from VMware for a little while to work with PernixData as the CTO and has just recently returned to VMware taking on the role of Senior Staff Architect within their SDDCaaS Cloud Platform Business Unit.  Frank will be giving a talk titled "A Closer Look at VMware Cloud on AWS".  With VMware and Amazon announcing a partnership recently allowing us to consume bare-metal ESXi from within the wide range of Amazon's data centers this will most certainly be an interesting keynote explaining just how it works – and what we can expect from it in terms of unified management between our on-premises and AWS infrastructure.
The Breakouts and Panels!
After Frank the morning breakout sessions will then kick off – here we will have sessions from a variety of partners and vendors whom provide everything from hardware to storage to back up to monitoring.  You will see all of the familiar names here with 30 minute breakout sessions covering off their technologies.  Take a look at our sponsors below – without these companies these events wouldn't be possible!    A round of sessions from VMware follows a couple of rounds of sessions from third-party vendors, then, lunch, and an aspiring/VCDX panel talk where you can be sure to get some in-depth answers to any questions you may have about design, architecture, or every day management of your VMware infrastructure.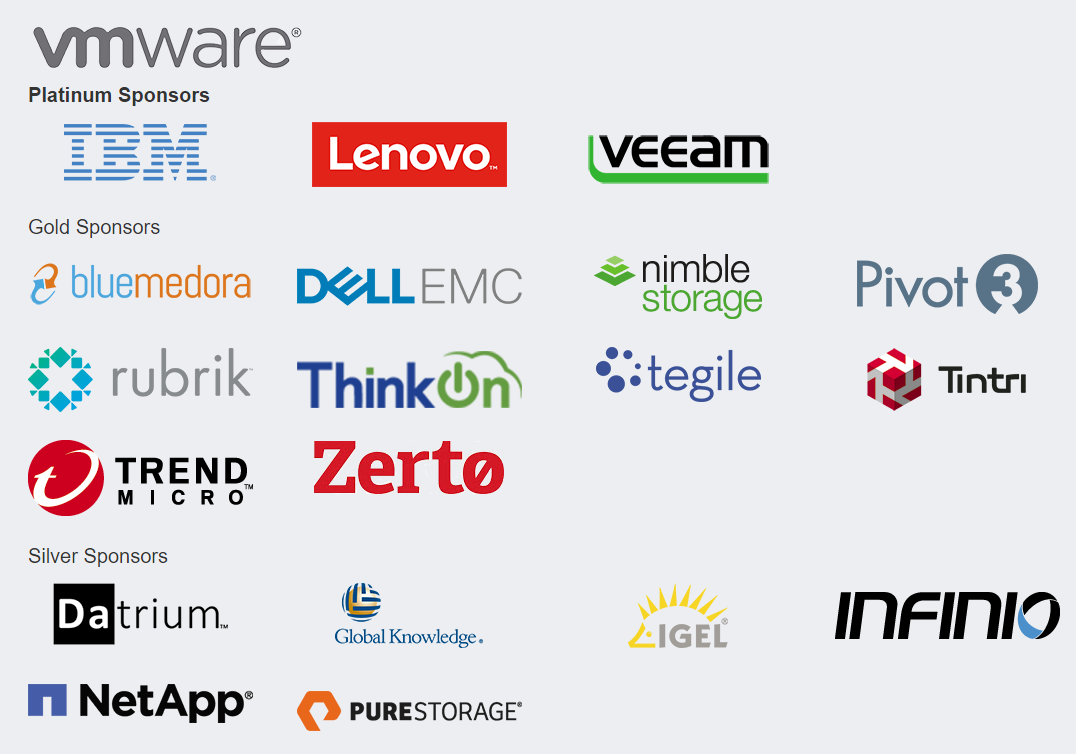 Drinks, Food, and DiscoPosse's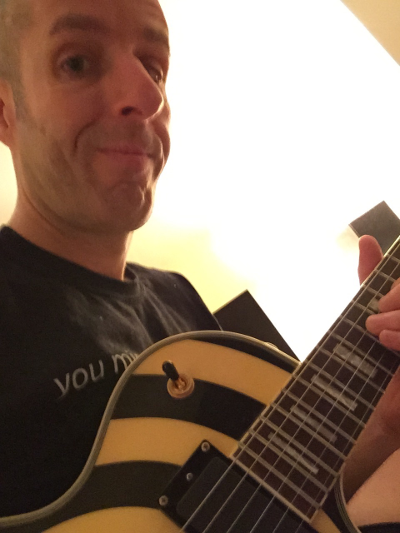 After lunch we have another couple of rounds of breakout sessions by VMware and our sponsors – with a reception following immediately thereafter.  vSphere with Operations Management will sponsor our networking reception, complete with drinks and appetizers – a perfect way to end what I'm sure will be a jam-packed day!  That said, what's a beer without entertainment right?  We are super happy to have our own VMUG co-leader Eric Wright (@discoposse) giving our closing keynote for the day!  Think of this a little like the technology version of CBC's Hometown Heroes segment that they offer on Hockey Night in Canada!  Eric, our own hometown hero will deliver a jam packed hour of all things VMware and Terraform, showing us just how easy it is to start automating our infrastructure with the open source software!  I got a sneak peek of this at our last local VMUG meeting and this is something you won't want to miss!
Free Stuff!
Then, yes, of course, Giveaways!  We have some pretty cool prizes this year including cold hard cash (VISA gift cards), GoPro's, and the ever popular grand prize of a complete vSphere Homelab!   This is on top of all the great giveaway's we see from our sponsors!
So if you aren't busy this Thursday, register now & drop in – we'd love to see you there!  Even if you are busy, cancel everything and come on down!  Can't make it?  Follow along via Twitter with the hashtag #tovmug and hey, we have more meetings coming up as well to help you all get the Toronto VMUG experience.  Our Q2 meeting is May 31st sponsored by Veeam and Mid-Range and our Q3 meeting is tentative for September 19th with sponsors Zerto and Tanium (still in development) – come and check us out.  As always, stay connected.  You can follow us on Twitter, connect on LinkedIn, watch our website, or become a member of the Toronto VMUG Community in order to stay up to date on all things tovmug!  See you Thursday!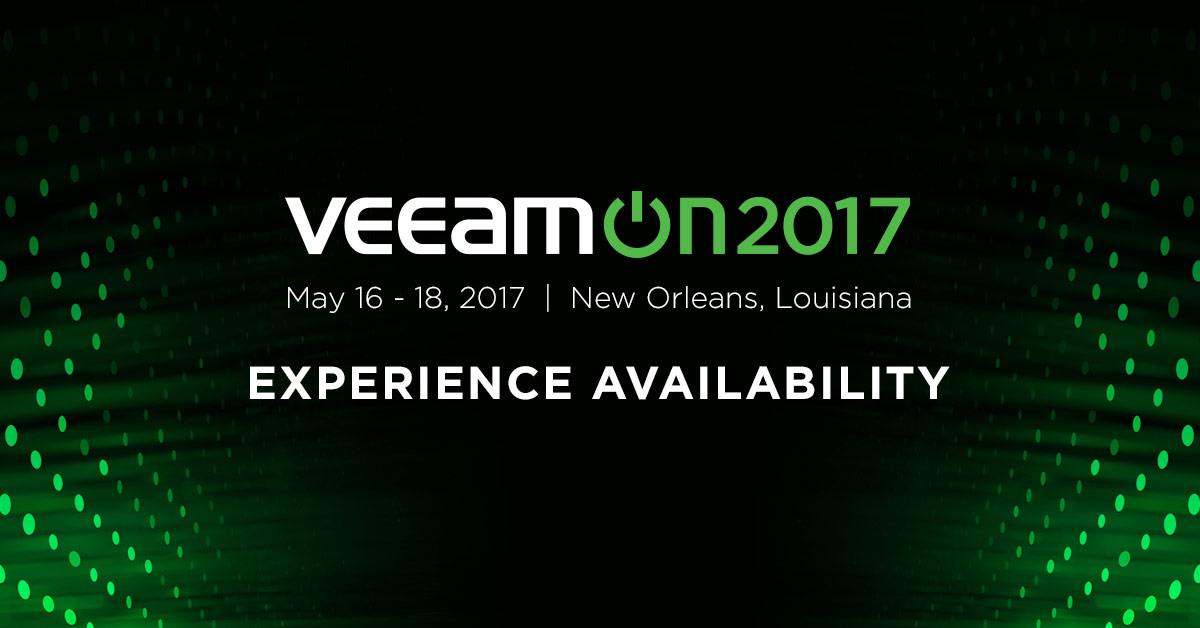 I've had the opportunity to attend both the previous VeeamON conferences in Vegas as well as the mini VeeamON forum last year in the UK and since it's still a relatively new conference on the scene I thought I'd give everyone a bit of an overview and heads up as what to expect from the event!  Before going to far into how the event is laid out let's first take a look at the logistics.  While I do like Vegas it tends to get a bit monotonous when it comes to conferences – making them all kind of feel like the same event.  That's why I was ecstatic to hear that VeeamON 2017 will be held in New Orleans this year from May 16th through the 18th!  So, as Veeam embarks on its' third VeeamON event I thought I might go over a bit on what to expect for those that may be unfamiliar with the backup vendors availability event.
Expect A LOT of technical information
With over 80 breakout sessions you can most certainly expect to learn something!    The thing about the breakouts in VeeamON though is their level of technicality.  I've been to many breakout sessions at other conferences that tend to be pretty marketing heavy – while VeeamON most certainly has a marketing agenda, the sessions themselves are very technical – with a 100 level being the least technical and a 400 level introducing you to things you never even knew existed!  I can honestly say that I was skeptical when attending my first VeeamON – wondering how they could have so many breakout sessions dealing solely with backup – man was I wrong!  Veeam B&R is a big application that touches a lot of different aspects of your infrastructure – think Repository best practices, proxy sizing, automation, best practices, etc.  This year with the addition of new products such as 0365 backup, Agents for Linux/Windows and the many storage integrations with partners you can bet that there will be plenty of content to be shared.
Expect a smaller, more intimate conference
VeeamON, compared to the bigger conferences is relatively small.  With roughly 2500 people in attendance last year and over 3000 expected this year the conference is not as spread out as what you may be used to – which is a good thing!  Honestly, it's nice being able to keep everything relatively confined to the same space and even nicer to have no crazy lineups to cross the street at the Moscone.  I found that VeeamON made it very easy to find people – whether you are looking for that person or not.  Meaning, don't be surprised to accidentally run into some Veeam executives in the hallways – or even the CEO in the elevator

  The atmosphere during the conference days at VeeamON is nice – not so loud that you can't have a conversation – the solution exchange isn't over run with vendors competing to see who has the loudest mic.  It's a nice, low key conference which makes it easy to have those valuable hallway conversations that are usually the best benefit from any conference.
Expect to learn a little more about the "other hypervisor"
VMworld – the place you go to learn all there is to know about vSphere.  MS Ignite – the place you go to get all your Hyper-V knowledge!  VeeamON – since Veeam B&R supports both vSphere and Hyper-V you are going to hear a lot about both the hypervisors.  You'll see your typical VMware crowd intermingling with…you know, the other guys,  all in support of the product that is protecting their infrastructure.  I've wrote about how the Vanguard program bridges this gap before – and the VeeamON conference is fairly similar in how it brings together the best of both the vSphere and Hyper-V worlds.  As my good friend Angelo Luciani always says "We are all in this together!"
Expect announcements!
This is a given right – every vendor organized conference is always organized around some sort of announcement or product release!  VeeamON 2014 saw the introduction to Endpoint Backup Free Edition, while VeeamON 2015 saw it's OS counterpart announced with Veeam Backup for Linux!  All the while lifting the lid on some major enhancements and features in their core product Veeam Backup & Replication.  So what will we see this year in New Orleans – your guess is as good as mine.  Veeam just recently had a major event where they announced the evolution of the physical Windows/Linux backup products (Veeam Agent for Windows/Linux) into paid versions coupled with the Veeam Backup Console for centralized management of our endpoints – as well, we saw the release of  Veeam Backup for O365 – What else is left to announce?  I'm sure we will hear more about v10 and some top secret features from it but with all of the other new product announcements one might think there is nothing left to release – but, a wise man who worked for Veeam once told me that they have this shelf containing a lot of products and ideas – you never know when they will take something down off of it

Expect to have ALL your questions answered
Veeam sends a lot of employees, engineers, tech marketing folks to this conference – and I mean A LOT.  Last VeeamON you couldn't even walk through the Aria casino without running into at least a half dozen Veeam engineers.  What this means is, if you have questions, VeeamON is the perfect venue to ask them.  I can pretty much guarantee you that they will all be answered – there will be a SME on site dealing in the areas you are having trouble with.  So don't just make VeeamON all about learning – try and get some of those pain points that have been bugging you for a while firmed up while at the conference.  Everyone is approachable and more than willing to give you a few minutes.
Expect an EPIC party
Sometimes you just have to let go right – If you have ever been to a Veeam party at any of the VMworlds you know that Veeam knows how to do just that!  In fact, I've heard more than once Veeam being described as a "Drinking company with a backup problem"

  I don't quite see it as being like that but certainly you have to agree that Veeam knows how to throw a party and make you feel welcome.  Whether you are just arriving and hitting up the welcome reception or you are attending their main VeeamON party I know you will have a good time, with good food and good drinks!  Veeam understands that it can't be all about business all the time – so take the opportunity at the parties to let a little loose and meet someone new!  I've made many lifelong friends doing just that!
So there you have it!  Hopefully I've helped paint the picture of what VeeamON is like for me and maybe helped you understand it a little more!  I'm super excited for VeeamON in New Orleans this May and I hope to see you there!