Holy crap the book is done – Troubleshooting vSphere Storage is available!
As some of you may now for the past, what feels like years but is probably closer to 6 months or so I have been working on a book project revolving around troubleshooting storage in a vSphere environment. At last I'm happy to say that the book is finally published and sitting on a variety of websites (Packt, Amazon) waiting to be purchased and consumed by you 🙂 ! The book, cleverly titled 'Troubleshooting vSphere Storage' is 150 pages straight to the point exercises that a vSphere admin can take when dealing with storage visibility, contention, and capacity issues.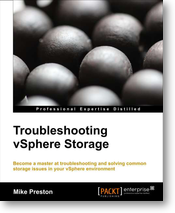 Early on when I was pondering the idea of doing this I had no idea about the amount of work and time commitment that writing a book would consume! I most certainly have a new found respect for the rock stars that are putting out 500 page books out there! It really takes a major commitment from the authors, reviewers, and editors to get everything done! Speaking of reviewers, my technical reviewers, Angelo Luciani ( blog / twitter ), Jason Langer ( blog / twitter ), and Eric Wright ( blog / twitter ) were key to me actually finishing this project. Their feedback was awesome and without it, well, who knows what state the book would be in. So a big thanks goes out to them for all their help!
Needless to say I'm pretty excited to have a published piece of work out there – and if it helps just one person, well, then I guess I've done what I set out to do 🙂