Tag Archives:
VFD5

Am I looking forward to the presentation at Virtualization Field Day 5 from OneCloud?  I have no idea!  Why?  Well, here is a company that I know absolutely nothing about!  I can't remember ever coming across OneCloud in any of my journey's or conferences!  Honestly, I think this is the first company that is the only company that is presenting at VFD that I have absolutely no clue about what they do…
Disclaimer: As a Virtualization Field Day 5 delegate all of my flight, travel, accommodations, eats, and drinks are paid for. However I do not receive any compensation nor am I required to write anything in regards to the event or the sponsors. This is done at my own discretion.

That will certainly change fast
OneCloud will present at VFD5 on June 24th at 1:00 PM where I'm sure we will all be enlightened a little more on the solutions they provide.  That said I don't like going in cold, knowing nothing about someone – thus, this preview blog post will at least help me understand a little bit about everything OneCloud has to offer…
So let's start from the ground up.  OneCloud is essentially a management platform for a hybrid cloud play.  Their core technology, the Automated Cloud Engine (ACE) is the base to where they provide other services.  From what I can tell ACE essentially facilitates the discovery of your on premises data center, taking into account all of your VMs, physical storage and networking information.  From here, ACE can take different business objectives and transform these into API calls in order to essentially replicate all your infrastructure into the public cloud – for now, it appears to be just Amazon's AWS which is supported.
The service running on top of ACE is OneCloud Recovery.  OneCloud Recovery allows organizations to facilitate a disaster recovery or business continuity solution involving the public cloud as the primary target – skipping costs and complexity of implementing a second or third site on premises.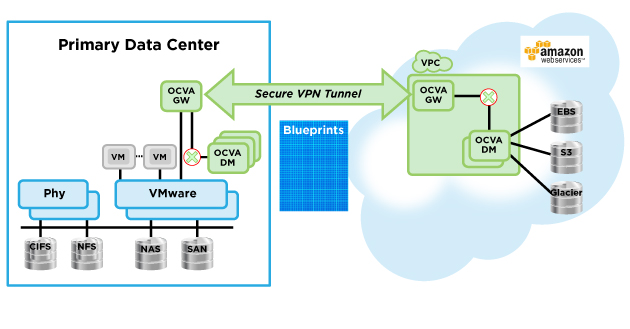 So here is how it all happens from start to finish – OneCloud is deployed into your environment, via the virtual appliance route.  Another instance is also deployed into Amazon.  From there it auto discovers your environment; your networking setup, storage configurations, data and applications are all tied together and somewhat of a blueprint of your environment is created.  You then use their policy engine to apply RTO and RPO objectives to your applications.  OneCloud will then provision a fully functioning virtual data center in Amazon – one that mirrors your environment in terms of networking and configuration.  OneCloud not only duplicates your environment into Amazon, but it will also optimize both your compute and storage in order to minimize costs.  Meaning it will scale down on CPU where it believes it can and place your data onto the most cost effective storage.  Once your data is there OneCloud performs ongoing replication in order to meet the RPO you have selected.  From there it's just a matter of performing your normal DR tests and engaging in any failover (and failback) operations.
OneCloud seems to have some interesting technology and I'm looking forward to learning more at VFD5.  Some questions for OneCloud that come to mind – How do they compare to VMware's vCloud Air DR services?   Do they plan on expanding out to other public clouds such as Google, Azure, or vCloud Air?  With a strong software base in ACE do they plan on moving outside just the DR/BC realm – things such as DevOps and public cloud labs come to mind.   I really like how they are abstracting away what can be some very complicated API calls to Amazon – any time a company provides a solution that involves simplicity it's always a good thing, but especially so when dealing with the complex networking and configuration of public cloud and disaster recovery.  If you would like to learn more about OneCloud with me you can do so by watching the live stream on the VFD5 event page.  That stream, along with any other content created by myself will be posted on my VFD5 event page as well.

Let's set the stage here!  We got Paula Long – yes, the same Paula Long that co-founded EqualLogic  – yes the same EqualLogic that Dell purchased in 2008 for 1.4 billion.  We have John Joseph – another long time (as long as  you can get in startups) EqualLogic member!  These two get together to execute on an idea, hire David Siles, a long term member of the senior leadership team at Veeam to be their CTO and then, on Tuesday, August 19th, 2014 at approximately 12:01 am, weighing in at 85 lbs and 26.75" tall DataGravity was born.
Disclaimer: As a Virtualization Field Day 5 delegate all of my flight, travel, accommodations, eats, and drinks are paid for. However I do not receive any compensation nor am I required to write anything in regards to the event or the sponsors. This is done at my own discretion.

DataGravity will present at Virtualization Field Day 5 in Boston on June 25th and I cannot be more excited to hear what they have to say.  I've spoke with them before, briefly at the craziness that is VMworld – and honestly, the booth was so busy with people wanting to get into to see the new baby that I couldn't stay long – so having a couple hours with them will be long overdue.
Just another storage startup?
Technically yes and technically no!  So in terms of technically yes what I mean is DataGravity is a storage array!  They are your primary storage!  They can provide storage to your ESXi hosts not only through the traditional NFS mounts and iSCSI targets, but also have a built-in VM-Aware storage provider – allowing you to skip the whole LUN provisioning and treat your VMs as a first class citizen in terms of living on the array!  VM-Aware of course makes it easier for us to perform things like monitoring, data protection and provisioning.  That said, haven't we seen all this before?  Isn't the market full of this?
Those questions lead me to the "technically no" part of my answer!  Sure, they do the primary storage, they have their flash piece!  If this blog post ended here then they would certainly be just another storage startup – but it doesn't!  DataGravity's differentiator in my opinion is the way they split their nodes of storage, and the unique functionality those nodes provide!
Not just another storage startup!
I'm not going to go too deep into how DataGravity works, partly because they are going to jam 2 hours of awesomeness into my brain at the end of the month so I'll save it for then, and partly because I don't really know how it all works…yet.
The main thing I get is that they "optimize, protect, track, and analyze data as its stored" – their words.  My words – it does more than just primary storage with the sweet spot being the "analysis".   Basically the primary storage is just that, primary storage – but as data comes in it's stored on a secondary node – this node can be used for the obvious, data protection, but also for analysis.  So think of it this way – it's easy now to see who created a certain file, but do we have visibility into who has modified that file over time, who else has read that file, where else that file might be stored, what other files this person has created!  DataGravity gives us this functionality – and not just on a per VM level, on a complete array level!   And all of this analysis and querying being run on a secondary storage node, leaving production to do production like things.   Essentially it's like Google for your storage array!
For now that's all I have to give you but expect a bit of a deeper post to come the end of June, early July on DataGravity as I hear what they have to say at VFD5.  Don't forget if you want to join in on the Virtualization Field Day 5 action you can do so by watching the live stream and follow along with the #VFD5 hashtag on Twitter!  And just a reminder – I'll try to have the live stream and any event related content on my VFD5 landing page here as well!
Disclaimer: As a Virtualization Field Day 5 delegate all of my flight, travel, accommodations, eats, and drinks are paid for. However I do not receive any compensation nor am I required to write anything in regards to the event or the sponsors. This is done at my own discretion.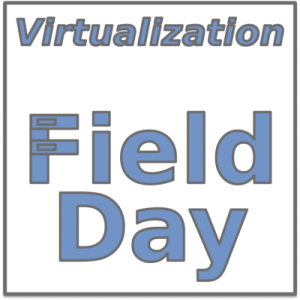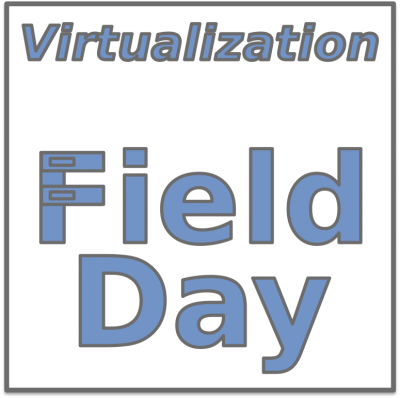 Boston is known for many things – as the title suggests they have their lobstah and chowdah, the infamous and tasty Boston cream donut (don't know if that's an actual Boston thing but it is at Tim Hortons) – outside of food they have the New Kids on the Block (don't ask how I know, wait, I mean, I don't know anything about them 🙂 ).  They have the perhaps the biggest rivalry in the NHL with my beloved Habs having played the Bruins over 350 times.  Aside from all this perhaps the biggest thing they are known for, or soon will be, is that they are the host of Virtualization Field Day 5 – and lucky for me I'll be there to see it all go down live!
If you haven't had the chance to check out one of the Tech Field Day events then you should probably peruse over to the their site and have a look at all the resources they have to offer.  I really like the format of these events, essentially stuffing vendors and delegates into a room together to have a deep, technical discussion about their product or offering.  The action is streamed live and the back channel on Twitter is a lot of the time just as, if not more amazing then the discussion in the room.
I was lucky to be chosen as a delegate for Virtualization Field Day 4 in Austin and placed all my content on my VFD4 event roundup here.  When approached with the opportunity to follow it up with VFD5 in Boston (I know, Boston/Austin – neat) I jumped on it.  If you have a look at the sponsors below I think you might see why…
See what I mean – there is definitely some great tech backing up all those logos and I can't wait to hear more about it!
Sure you get to hear from each vendor for a few hours and that's exciting, but what really makes your Tech Field Day experience is all of the delegates (and of course Stephen, Tom and Claire).  You are in a room for 8 hours a day with these people, being rushed in and out of offices and cars – you get to know each other pretty well.   Without further ado the VFD5 delegates are Alistair Cooke (@DemitasseNZ), Amy Manley (@WyrdGirl), Bob Plankers (@Plankers), Chris Marget (@ChrisMarget), Chris Wahl (@ChrisWahl), Eric Shanks (@Eric_Shanks), Ethan Banks (@ECBanks), Justin Paul (@recklessop), Luc Dekens (@LucD22), Sean Massey (@SeanPMassey), Vladen Seget (@Vladan) and myself.  That is for sure a smart group of people and I'm excited to get rushed around like cattle with them :).
And of course the Tech Field Day events couldn't be made possible with the countless hours of work put in by Stephen Foskett and the whole crew at GestaltIT – honestly they treat you like gold while you are there and it's quite a humbling experience.
I suppose I should leave it at that as June 24th is not that far away, although I'm sure it will feel like an eternity.  I'll just have to take it step by step and hang tough for the next few weeks (see what I did there, ugh!).  Watch this space as it is where I will post all of my #VFD5 related material – See yah in Bawston!