Tag Archives:
Dell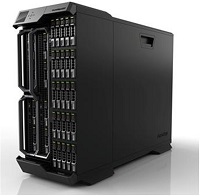 Over the past couple of months I've been working on some vCO workflows to setup and configure a Dell VRTX as we are on the verge of deploying a handful of them.  Now this isn't going to be a big post about what VRTX can do nor is it how to use vCO to set it up – I'll save them for later – this is simply one small quirk that I've found when installing ESXi 5.5 onto the blades inside of the VRTX.
Small is the new big.
I shouldn't have said small quirk – it's somewhat of a show stopper.  If you simply throw on the vanilla ESXi 5.5 image, or even the Dell released image of ESXi 5.5 you will quickly notice that you have absolutely no storage available to you from the shared PERC controller that sits inside the VRTX.  Kind of hard to use the box with no storage 🙂
Before I go into my Dell rant if you are just looking for the solution, just scroll down to the "Driver thang" section of this post.  For the rest of us…
Since writing this Dell has released a supported version of ESXi 5.5 for the Dell VRTX blades.  Head over to Dell.com and punch in your service tags to get the image.  I've used and tested this and it work flawlessly 🙂  Thanks Dell!
Start-Rant -Type 'Mini'
ESXi 5.5 is not certified on a Dell VRTX, so ultimately, you could say, it isn't supported – not by Dell or not by VMware.  What I don't understand here is that how Dell can release a "converged" solution, promote the crap out of it stating how great it is to run VMware on, and not support the latest release of ESXi!?!?!  I mean, this thing was released in the summer of 2014.  ESXi 5.5 was announced at VMworld in August 2013!  You would think that Dell would have the drive to hit the market with this thing supporting the latest and greatest software – but no – either way, I'm sure it will all be updated soon, and I'm sure they have their reasons – but for the meantime, here's how to get it going…
Stop-Rant
Ain't nuttin but a driver thang.
The fact that you don't see storage isn't the result of any major issue or complex problem.  It's simply a driver.  The driver that the shared PERC uses included with the ESXi 5.5 image is just too new (?!?!?!).   However the version you need, or the version that I've found to work is labelled megaraid_sas version 06.801.52.00.  What the difference is between these two versions I have no idea, i just know you need 6.801.52 to make it work.  You can grab that here.
Once you have the file you are just a vib install away from VRTXing all night long.  Pick your poison when it comes to vib installs; update manager, vMA or esxcli – for the sake of not having to put too much effort into anything I'll go over the esxcli way of installing the vib.  First things, upload that VIB to one of your datastores or an accessible area on the host.  From there, ssh in and install the vib using the following command.
esxcli software vib install -d /tmp/megaraid/megaraid_sas-06.801.52.00-offline_bundle.zip
The only thing that stands in between you and your VRTX storage now is a reboot, so go ahead and do that.
There you have it – storage!
This is only the way I've found to make storage work with the VRTX and 5.5 and hey, I could be crazy by doing all of this – so if you have any other suggestions, concerns, or comments I encourage them below or send me a message on Twitter – Like I said, I have a handful of these to configure so I'd rather not roll them out in some kind of crazy state 🙂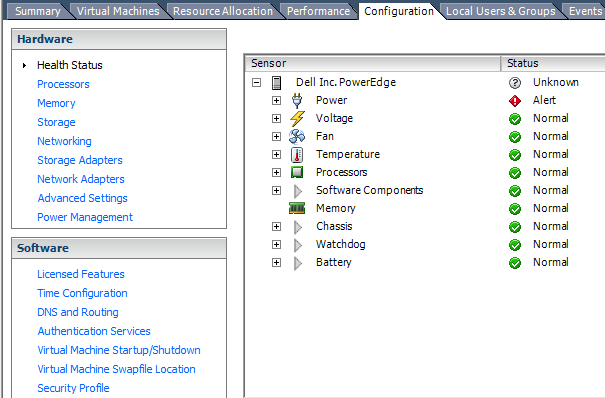 We have probably all been there at one point while messing around with ESXi and certain types of hardware. You get your ESXi host installed and configured and it seems to work fine until you look at the Health Status section of the host configuration and notice that you can see mostly all of your hardware, except for the peice that is most likely to fail, your storage. Now normally, well, with HP anyway, you can install the provided offline packages in order to get the hardware to appear, however in my experiences with Dell after installing their Server Administrator software and their Open Manage bundles the storage was still no where to be found.
Well, here's the deal. The adapter that I was specifically trying to report on was a PERC H700. Now most of the Dell PERC controllers are based off of a MegaRAID chipset (answer is always a Google search away) and you can confirm this by running 'esxcfg-scsidevs -a' to show the following output about your hba's.

So, off to LSI's site I headed to have a look for a VIB that might give me the information I need to see about my storage. I ended up pulling down a vib designed for the MegaSAS 9260. There are many ways to install a vib into ESXi but since I already had established an SSH session on my host I decided to use esxcli. After transferring the vib file to your host you can install it via the CLI by running the following command. I thought I was home free here…
esxcli software vib install -v /tmp/name_of_vib
Now this returned the following error…

'Could not find a trusted signer.' – a quick look at the help for for vib install I seen that there was a –no-sig-check option that could be attached to the command. Honestly, I'm not sure what the implications of running with 'no sig check' are, but I forged ahead anyways. If i ever get some time I'll try and do a little reading and update this post with some valid information around skipping the signature check. Either way, running the command again with the –no-sig-check (below) will get the job done for you…
esxcli software vib install -v /tmp/name_of_vib –no-sig-check
So, a quick reboot after the fact and voila! Disk information.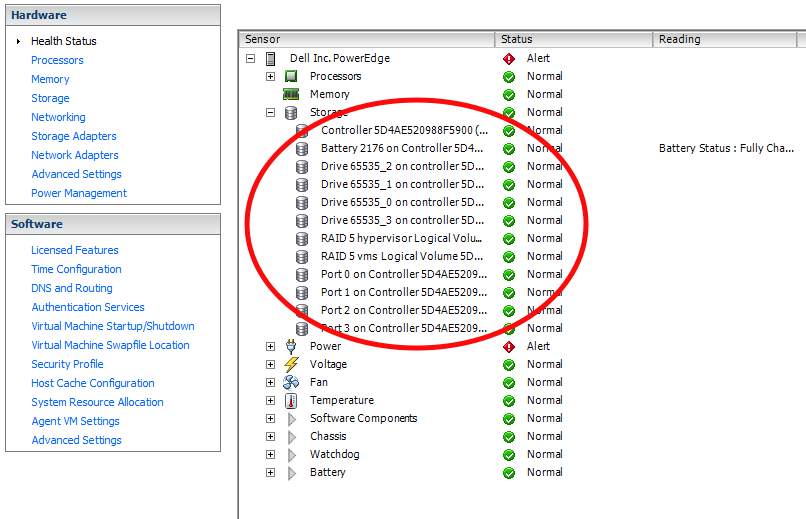 So, there you have it, finally I can see my storage 🙂 Once again, comments, concerns, questions are always welcome in the boxes below….