Tag Archives:
Cohesity

Cohesity is next up in my flurry of Tech Field Day 12 previews with their secondary storage play.  I just recently got to see Cohesity present as they were a sponsor at our Toronto VMUG which took place at the legendary Hockey Hall of Fame, so I guess you could say that Cohesity is the only vendor I've seen present in the same building as the Stanley Cup.   Okay, I'll try and get the Canadian out of me here and continue on with the post…
Disclaimer: As a Tech Field Day 12 delegate all of my flight, travel, accommodations, eats, and drinks are paid for. However I did not receive any compensation nor am I required to write anything in regards to the event or the presenting companies. All that said, this is done at my own discretion.
Who is Cohesity?
Cohesity was founded in 2013 (I'm detecting somewhat of a Tech Field Day 12 pattern here) by Mohit Aron, former CTO and co-founder of Nutanix.  You can certainly see Mohit's previous experience at Google and Nutanix shining through in Cohesity's offering – Offering complete visibility into an organizations "dark data" on their secondary storage appliance.
Secondary Storage?
Cohesity's appliance in itself doesn't claim to be a primary storage array – they aim at the secondary storage market.  Think of non mission critical data – data such as backups, file shares and test/dev copies.  All this data is a perfect fit for a Cohesity appliance.  How this data gets there and what we can do with it all lies within Cohesity's DataProtect and DataPlatform software!
DataProtect and DataPlatform
For the most part, the on boarding of all this data onto their appliance is done through backups – Cohesity's DataProtect platform to be more specific.  DataProtect  seamlessly integrates into your vSphere environment and begins to back up your infrastructure using a set of predefined and custom policies, or SLA's if you will.  Policies are setup to define things such as RPO – how often we want to back up, as well as retention policies for archival – Backups over 30 days shall be archived to Azure/Amazon/Google.
Once the data resides within Cohesity's appliance, another technology DataPlatform takes over – DataPlatform provides a Google-esque search across all the data, be it on premises or archived to cloud.  Here is where we can do some risk management, searching for patterns such as credit card number or social insurance numbers.  DataPlatform also allows us to leverage our backups for items such as test/dev, creating a complete copy of our environments very fast – isolated from our actual production networks.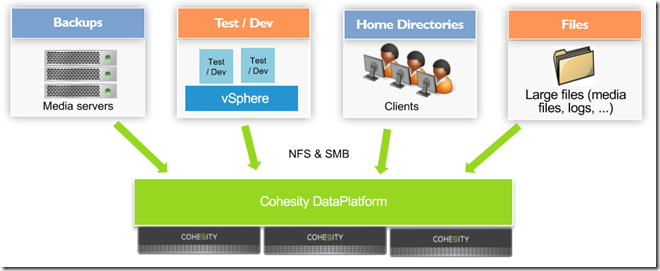 With the release of 3.0, we have also seen physical Windows and Linux support added into the platform – so just as we protect our VMs, we can protect our physical servers, along with the applications such as SQL/Exchange/Sharepoint that are running on them.
With a best of VMworld 2016 award under their belts I'm pretty excited to go deeper into Cohesity – and expect to hear a lot more as to what their next steps might be!  Stay up to date on Cohesity and all things mwpreston/Tech Field Dayby watching my page here – and see all there is to know about Tech Field Day 12 on the main landing page here!  Thanks for reading and see yah in November 🙂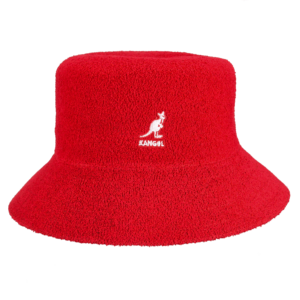 Yes Mr Cool J you heard that right – Although you don't 'think' you are heading back, this guy is indeed 'Goin back to Cali!'  While Mr Cool J would rather stay in New York I'm heading to Silicon Valley to partake in Tech Field Day 12 with a slew of great delegates and sponsors alike!  This will be my first time in the Valley – so I'm pretty pumped to say the least!  I'm excited to finally be in the heart of all of the companies and technologies that I've been using my whole life, and writing about here for the past 5 years or so!
TFD what?
So if you haven't heard of Tech Field Day then you have most certainly been missing out!  TFD is the brainchild of Stephen Foskett and his company Gestalt IT and is essentially a learning resource for the community.  Now I know, I know, there is already many many resources out there for us to find out about certain technologies or companies – we have white papers, books, blogs, videos, training, etc – but the problem is most of this stuff usually stems from strong marketing roots, and at times, can be a bit overwhelming trying to weed out the message from the technology!  TFD solves this by deep diving into the technology, and by placing a dozen or so tech minded folks in a room with a vendor it helps to keep the presentations and messages on point – it's about the technology, not the marketing!  You know when you are sitting through a webinar or a presentation and someone poses a question – and said question is responded to with a "I'll connect you with an SE or with someone afterwards to talk" – this kind of stuff doesn't really happen at TFD – most the time, vendors and companies presenting have the knowledge and the resources in the room to leave no question unanswered – that's what I like to think TFD is!
Anyways, so yeah, the Valley – so excited for this!!  Tech Field Day 12 has a number of great sponsors and vendors lined up to present at the event (you can see them above).  Some of these companies are giants (Dell EMC, Intel), some fairly new to the market (Rubrik, Cohesity), some are all the rage right now (Docker), and honestly some I've never dealt with or even really heard of (StorageOS, DriveScale, Igneous).  It's normally the latter that really impress me at these events!  So heads up, the time is near – TFD12 airs November 15th and 16th with two jam packed days!  To learn more about the event, certainly check out the official landing page!
As I have with the other TFD events I've participated in I'll try to consolidate all of my content surrounding the event on a single page, which you can find here!  A huge thanks to Gestalt IT for having me back!  I can't wait!  Oh, and sorry for the 90's hip hop references – it was as witty as I could get at the moment 🙂  Either way, I can almost hear those scratching records and that crazy jazz music which kicked of the song right now 🙂

After just over half a year of making their 1.0 product generally available Cohesity, a company based out of Santa Clara have announced version 3.0 of their flagship secondary storage products DataProtect and DataPlatform.  I had the chance to take a 1:1 briefing with Cohesity to check out what's new and find out just what they define secondary storage as and thought I'd try and share my thoughts around the new features and overall solution from Cohesity here…
What is secondary storage?
Before we get too in-depth around the features and benefits of the Cohesity platforms its nice to stop and take a look at just what secondary storage is.  Quite simply, Cohesity sees secondary storage as any storage hosting data that isn't "mission critical", and surprisingly they are also discovering that this non "mission critical" data takes up the majority of an organizations overall capacity.  As show below we can see that data such as backups, test/dev, file shares, etc.…  These all fit into the secondary storage profile – data that is rarely used, fragmented and complex to manage, data that Cohesity defines as "Dark Data"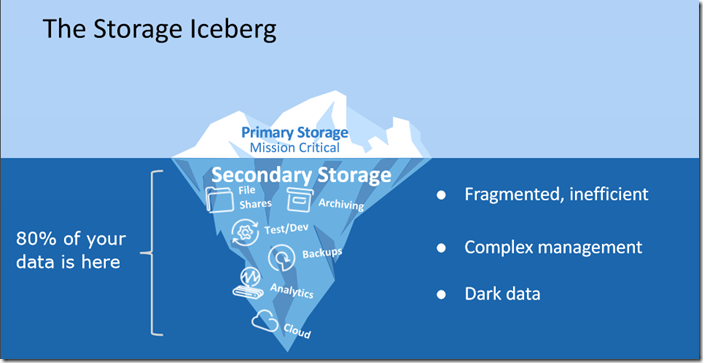 All of this "Dark Data" can become a bit of a challenge to manage and maintain – We end up with numerous backups that we don't touch, we have many appliances and servers within our datacenter performing various functions such as deduplication, compression, analytics, etc.  All of these moving pieces within our datacenter each come with their own cost, their own hardware footprint, and for the most part have no way of interfacing with each other, nor do they have the ability to scale all together.  This is where Cohesity makes it's play – simplifying secondary storage within your datacenter
Cohesity – All your secondary storage – One Hyperconverged platform
Cohesity moves into the datacenter and aims to eliminate all of those secondary storage silos.  They do this by consolidating your backups, file shares, test/dev copies, etc. and moving them all on to a Cohesity appliance.  To get the data there, Cohesity first leverages their DataProtect platform.  DataProtect provides the means of backup, using seamless integration into your vSphere environment Cohesity starts performing the role of your backup infrastructure.  Utilizing user create polices based on SLA requirements, Cohesity begins on loading your backup data, adhering to specified RPOs, retention policies etc.  From there DataProtect also adds the ability to offload to cloud for archival purposes. Think in terms of offloading certain restore points or aged backup files to Amazon, Azure, or Google.   Once the data resides on a Cohesity appliance a number of benefits are presented to their customers; think analytics, being able to get a Google-like search throughout all of your secondary data, looking for pre-defined templates such as social security numbers or credit card numbers.  DataPlatform also provides the ability to leverage copy data management to quickly spark up exact, isolated copies of our production environment directly on the Cohesity appliance.  This allows for things such as patch management testing, application testing, or development environments to be deployed in a matter of minutes utilizing flash-accelerated technologies on the appliance itself.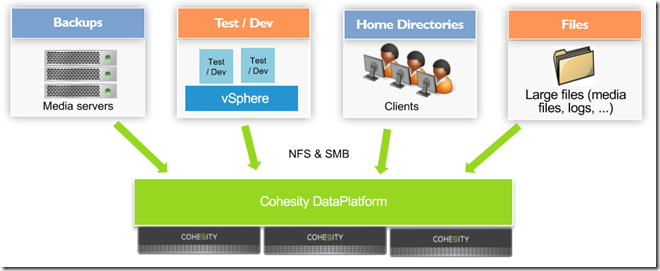 Integrating all of these services into one common platform for sure has its benefits – lowering TCO for one, not having to pony up for support and licensing for 4 different platforms is the first thing that comes to mind.  But beyond that it provides savings in terms of OpEx as well – no more do we have to learn how to operate and configure different pieces of software within our environment dealing with our secondary storage.  No more do we have to spend the time copying data between solutions in order to perform various functions and analytics on it.  We can just use one appliance to do it all, scaling as we need by adding nodes into the cluster, and in turn, receiving more compute, memory, and storage capacity, thus increasing performance of the secondary storage environment overall.
So what's new in 3.0?
As I mentioned before this is Cohesity's third release in just over half a year.   We saw 1.0 GA in October of 2015, 2.0 not long after that added replication, cloning and SMB support in February of this year, and now we have 3.0 hitting the shelves with the following improvements and features…
Physical Windows/Linux Support – perhaps the biggest feature within 3.0 is the ability to now protect our physical Windows and Linux servers with DataProtect.  The same policy based engine can now process those physical servers we have in our environment and allow us to leverage all of the analytics and search capabilities on the data that we have always had.
VMware SQL/Exchange/SharePoint Support – As we all know in the world of IT it's really the application that matters.  3.0 provides the ability to perform application aware backups on our virtualized SQL, Exchange, and SharePoint servers in order to ensure we are getting consistent and reliable backups, which can be restored to any point-in-time, or restoration of individual application objects as well.  3.0 also adds the ability to provide source-side deduplication for these application-aware backups, meaning only unique blocks of data are transferred into the Cohesity platform during a database backup.
Search and recovery from Cloud – 3.0 also brings us the ability to perform search capabilities on our data that has been archived to cloud, but more importantly, perform granular object level recovery on that cloud archived data as well.  Meaning the cost of moving data out of the cloud should decrease as we are just moving the data we need.
Performance Enhancements – Utilizing a technology based upon parallel ingest, Cohesity can now spread the load of ingesting individual VMs across all the nodes within its' cluster – resulting in not only a capacity increase when you scale, but also a performance increase.  Also, they have done much work around their file access services, basically doubling the amount of IOPs and throughput.
And to top it all off, Best of VMworld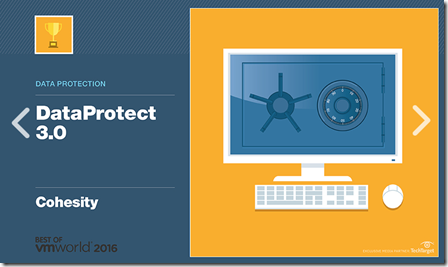 A huge congrats to Cohesity on the announcement revolving around 3.0 but an even huger congrats goes out for the "Best of VMworld 2016" within the Data Protection Category!  If you want to learn more I definitely recommend checking out Cohesity's  site here, or, if you happen to be at VMworld you have a couple more days to drop in and say Hi at booth #827!