Monthly Archives:
May 2016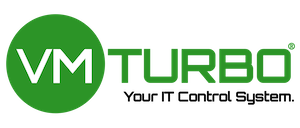 It's that special time of year again when we start to see a lot of planning and chatter around VMworld.  This year, the mega virtualization show has been moved back to Las Vegas at the Mandalay Bay resort – running from August 28th through September 1st!
Now if you are struggling to find the funding to get yourself out there, or if say your company just doesn't want to fork out the dollars to purchase a conference pass for you then why not try your hand with VMTurbo?
Starting today!  Yes, TODAY VMTurbo will be giving away 2 full conference passes to three lucky winners!  All you need to do is sign up and answer a few basic questions about your virtual environment!
And if you are late to the game and didn't see this in time don't fret – VMTurbo will be holding two more draws for two conference passes on June 17 and July 15th as well!  You only have to sign up once to be included in all three draws so don't hesitate, sign up now!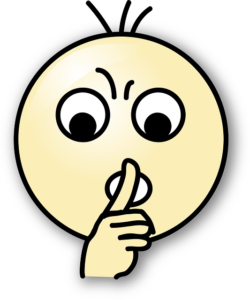 A ways back I wrote an article about how to utilize vRealize Orchestrator to deploy and install Update 2 for Veeam v8 to any of your virtualized Veeam Backup & Replication servers.  This has worked well for me as I normally have the vSphere Web Client open anyways – why not just do my updates with this.
Well, with v9 Update 1 there have been a few changes to how you go about silently deploying a Veeam update.  First up there is no need to extract the update file – we can simply pass our install parameters directly to the update package – therefore we no longer need the setup.bat file that orchestrates the unpacking and installing!  We can simply copy the file out and and pass the /silent, /noreboot, and /log arguments to it – as shown below…
c:\downloads\VeeamBackup&Replication_9.0.0.1491_Update1.exe /silent /noreboot /log c:\downloads\patch.log VBR_AUTO_UPGRADE=1
So, if you had followed along with the previous post and want to update your vRO workflows to be compatible with v9U1 you may need to change a few things.  For those starting fresh, I'll go over the whole process again below.
The Workflow
The vRO workflow is pretty simple (especially now with silent installation improvements) – It really needs to do only two things; 1 – copy out our update file, 2 – run the executable.  In order to support these two functions we to first setup a few arguments and input parameters to our workflow
Arguments
vroPathToVeeam (string) – this will contain the path to the Veeam update file that we place on the vRO server (i.e. /var/log/vco/VeeamBackup&Replication_9.0.0.1491_Update1.exe )
guestPathToVeeam (string) – this will contain the path on the target server in which we would like to copy the file (i.e. c:\downloads\VeeamBackup&Replication_9.0.0.1491_Update1.exe )
vmUsername (string) – the username with permissions to copy/run files on the Veeam Backup and Replication server (i.e. [email protected])
vmPassword (SecureString) – the above users password 🙂
Input Parameters
vm (VC:VirtualMachine) – this will be the virtualized Veeam Backup & Replication server name.  We've set this up as an input parameter instead of an attribute so we can automatically pass the VM's name from the right-click context menu inside the vSphere Web Client.
The Schema
As you can see below we basically mimic the two functions mentioned previously with Scriptable Tasks within vRO; Copying the files and Executing the update.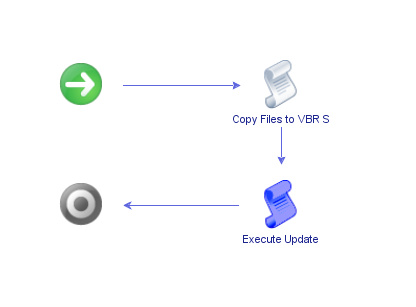 As far as copying the files go it's a pretty simple script
1
2
3
4
5
6
7
8
9
10
11
12
13
14
15
16
17


// establish connection




var

 host 

=

 vm.

sdkConnection

;




var

 guestOperationsManager 

=

 host.

guestOperationsManager

;




// create authentication




var

 guestAuth 

=

 

new

 VcNamePasswordAuthentication

(

)

;


guestAuth.

username

 

=

 vmUsername

;


guestAuth.

password

 

=

 vmPassword

;




// construct fileManager




var

 fileManager 

=

 guestOperationsManager.

fileManager

;


result 

=

 

false

;




var

 attr 

=

 

new

 VcGuestFileAttributes

(

)

;




var

 srcFile 

=

 

new

 File

(

vroPathToVeeam

)

;




var

 uri 

=

 fileManager.

initiateFileTransferToGuest

(

vm 

,

 guestAuth 

,

guestPathToVeeam

,

 attr

,

 srcFile.

length

,

 

true

)

;




// Copy File


result 

=

 fileManager.

putFile

(

vroPathToVeeam

,

 uri

)

;


asdfa
asdf
And to execute the actual file once it has been copied (The Execute Update scriptable task)…
1
2
3
4
5
6
7
8
9
10
11
12


var

 host 

=

 vm.

sdkConnection

;




var

 guestOperationsManager 

=

 host.

guestOperationsManager

;




var

 guestAuth 

=

 

new

 VcNamePasswordAuthentication

(

)

;


guestAuth.

username

 

=

 vmUsername

;


guestAuth.

password

 

=

 vmPassword

;


guestAuth.

interactiveSession

 

=

 

false

;




var

 guestProgramSpec 

=

 

new

 VcGuestProgramSpec

(

)

;


guestProgramSpec.

programPath

 

=

 guestPathToVeeam

;


guestProgramSpec.

arguments

 

=

 "/silent /noreboot /log c:

\d

ownloads

\p

atch.log VBR_AUTO_UPGRADE=1"

;


guestProgramSpec.

workingDirectory

 

=

 

""

;




var

 processManager 

=

 guestOperationsManager.

processManager

;


result 

=

 processManager.

startProgramInGuest

(

vm 

,

 guestAuth 

,

 guestProgramSpec

)

;
And with that we are done – don't forget to  map the relevant input parameters from the global workflow to those inside the individual scriptable tasks…
We can now run this workflow from within the vRO client, select a virtualized Veeam B&R server and have v9 Update 1 automatically deployed and installed to it.  To go one step forward you can also go and associate this workflow with the right-click context menu within the vSphere Web Client if you like, then you never have to even open up vRO 🙂
Keep in mind this workflow does nothing to ensure that you have no active jobs – this is something I'd love to add someday, check for running jobs and if there is, wait or cancel them before running the update…
Thanks for reading!
Virtualization drastically changed the way we deploy applications and servers within our datacenters – eliminating racks upon racks of single purpose servers and replacing them with compute clusters and shared storage.  In terms of IT, the timespan that virtualization has been mainstream has been short, but even in the small amount of time that it has been in our datacenters we have seen evolutions in the underlying infrastructure that supports virtualization.  We've seen converged systems enter the marketplace, bundling the server clusters and storage together under one support SKU.  From there we've went one level further with hyperconvergence, eliminating all of the complexity and troubles of having separate pieces of infrastructure for compute and storage.  Hyperconvergence has certainly made a foot hold on the industry, but for the most part the target customer for these types of deployments have been aimed at small, medium and large ENTERPRISE, not business.  Hyperconvergence is a perfect fit for the SMB, however up until now has been out of reach in terms of price for companies needing a small deployment for 50-100 VMs…
Enter StarWind

StarWind has been around since 2003 and are most famous for their flagship product StarWind Virtual SAN – a shared storage solution running on Windows and providing capacity to both VMware and Hyper-V clusters.  StarWind have supported a 2 node, highly available storage setup for VMware with their Virtual SAN for a few years and have had success doing so.  However now they have taken that one step further by providing a hyperconverged solution including the hardware, computer, storage, network, and management under one simple solution called the StarWind HyperConverged Appliance (HCA)
Note: This review was sponsored by StarWind Software, meaning I did receive compensation for the words on this page! That said the words on this page are mine and mine alone and not StarWinds 🙂
The hardware
Before we get too much into the software driving the HCA let's first take a step back and checkout some of the unique ways StarWind is providing hardware.  The commodity servers underneath the StarWind HyperConverged Appliance (HCA) are key to how they are able to offer their powerful solution, yet keep costs at a minimum and target SMB's and ROBOs.  We have a few options when it comes to hardware and the StarWind HCA – we can buy new, refurbished, or quite simply, bring our own hardware.
You will see the phrase "best in breed" a lot within this review as that is the path that StarWind has chosen to take while putting together the pieces of their HCA.  StarWind is a software company, not a hardware company so they've opted to chose Dell as their preferred provider for the infrastructure beneath the HCA.  As we all know Dell brings tremendous solutions to their customers, providing infrastructure that can be scaled to meet the needs of the "mom and pop" shop all the way through to the large enterprise.  Not to mention they have one of the biggest distributions in the world for providing hardware and servicing warranty and parts replacements.
Whether you chose to buy new or refurbished (StarWind has partnered with xByte and Arrow) there are some commonalities between the solutions.  First off, customers have the option to purchase up to 5 years of 4 hour pro support on any hardware purchased (even refurbished) so you can ensure that you are covered in terms of hardware failures.  Also, whether it's new or refurbished hardware, the StarWind HCA comes in three different flavors, ranging from small to large depending on your needs.
Model S – The HCA Model S is the entry level system which is mainly designed and targeted at SMBs and ROBOs.  This unit, a Dell T320 is a tower format – perfect for those remote/small offices that don't have proper data centers or racks already installed.  The Model S does not require additional network switching and can be connected directly into existing switches – while all storage traffic is routed through a directly connected 10GbE back end.  The Model S starts with a 2-node starter set, and scales out to a maximum of 16 nodes.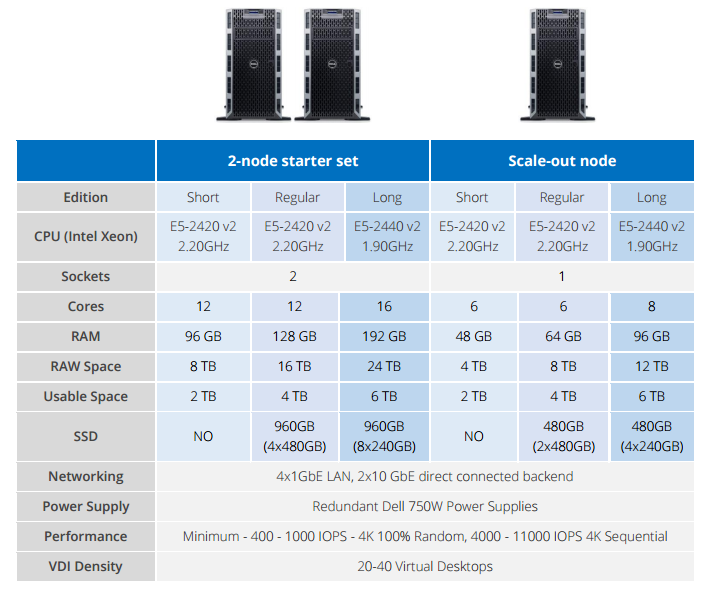 Model L – HCA Model L takes the next step and provides a mid-level system for SMBs, providing the ability to pack more CPU, Memory, and storage into each node and moving up into a rack architecture (Dell R620).  Again, the 2 node starter set utilizes existing switching and scales to a maximum of 64 nodes.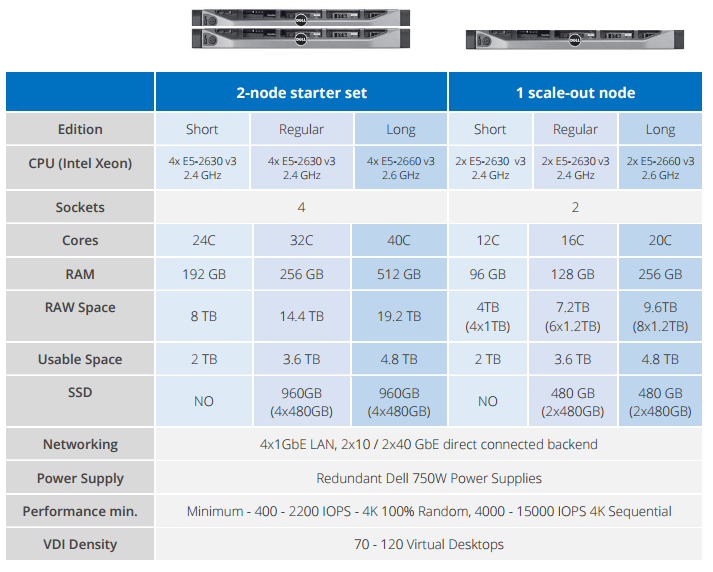 Model XL – Finally, the Model XL provides yet even bigger hardware configurations and faster CPU's.  As with the Model L this solution comes in a rack mount architecture (Del R720) and is designed for SMBs with high performance computing demands, VDI deployments, or mid-size enterprise ROBOs.  The Model XL provides us with maximum storage density and allows us utilize a dedicated 10 or 40 GbE back end for storage traffic.  Just like the other models the starter set comes with 2 nodes, with the Model XL having the capability to scale to 64 nodes total.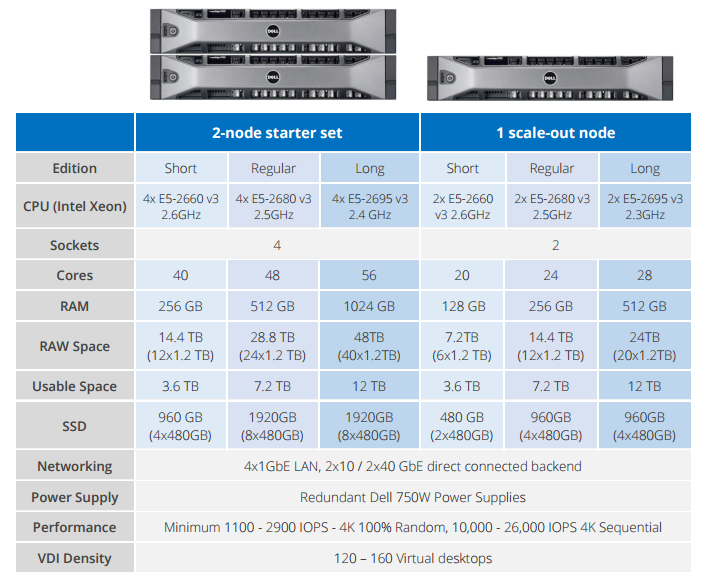 As we can see above there is a wide range of compute, memory, storage and networking configurations available with the HCA which can meet the needs of almost any SMB/ROBO deployment out there.  All models are equipped with a direct connected 10GB backend to handle the storage replications and are sold on a node by node basis, or in a 2-node starter set to get you up and running quickly.
One advantage to the StarWind solution is that you aren't locked in to specific model types once you purchase them.  In fact, StarWind has published many "typical configurations" that meet the needs of various use-cases for the SMB.
Two Model L Nodes – Typical setup for an SMB looking to run a File Server, Exchange environment, SQL Server, etc.
Three Model L Nodes – Same as the previous configuration, but with an additional node added to provide more compute and storage to run additional workloads.
Three Model L Nodes + Two Model XL Nodes – Configuration for an SMB looking to run File Server, Exchange, SQL Server, etc with the addition for a 150 seat VDI deployment.
Three Model L Nodes + Two Model XL Nodes + Six Model S Nodes – This would be a typical setup for those organizations looking to deploy a central solution with support for three remote offices.  Each remote office would have a 2-node Model S cluster to support local services.  The 3 Model L and 2 Model XL nodes would be deployed at a central office to provide support for File Server, Exchange, SQL, VDI, etc as well as acting as a replication target for the remote locations.
Bring your own hardware
If the solutions provided by StarWind don't quite meet your requirements, or if you simply want to leverage a past investment, customers also have the option to use their own hardware for the StarWind HCA.  By purchasing just the software, services and support, a small business is able to keep costs down while getting more bang for their buck on their previous hardware investments by utilizing infrastructure they may already have in place.  Obviously there are concerns in terms of warranty and support when going with this model, but the key is there is a lot of flexibility when it comes to how the customer can deploy the StarWind HCA.
The software
Let's face it, the underlying hardware is quickly becoming a commodity in today's world and focus has quickly moved to the functionality of the software.  StarWind recognizes this and has taken a stance to deploy their HCA in a "best of breed" type scenario.  To best understand the this we can look no further than the diagram below, which outlines each piece of software included within StarWinds VMware offering…

Hypervisors
The StarWind HCA comes at a minimum with 2 servers running vSphere 6 yet can scale to 64 nodes easily by simply dropping in more hosts.  As far as management goes the vCenter Server Appliance is licensed and preconfigured within the StarWind HCA in order to allow organizations to manage their environment with a  product they may already be familiar with – no need to learn new interfaces or attend respective training.  It should be noted that this review is focused around VMware, but the StarWind HCA does support Microsoft Hyper-V as well.
Storage
Hyperconvergence takes our traditional storage arrays, those big metal, external, shared storage solutions and collapses them down into the local storage, which in turn performs some magic and presents these local disks back out to the cluster as shared storage.  StarWind has built their company based on providing shared storage to clusters and their shared storage product, StarWind Virtual SAN is the backbone to providing availability within their HCA deployment, thus, we will spend most of our time focusing on this.
StarWind Virtual SAN is an installable product that runs on Microsoft Windows.  With a two-node deployment of the StarWind Hyperconverged Appliance you will see two instances of StarWind Virtual SAN, with each VM living on its' own node.  From there, the local storage is claimed by the corresponding Virtual SAN VM, and presented back out to the ESXi hosts in terms of an iSCSI datastore.  The real power of Virtual SAN however comes in the form of availability as the product comes preconfigured in a highly available model.  It does this by utilizing NICs within the ESXi hosts to synchronously mirror the datastore from one Virtual SAN instance to what they call a Replication Partner, which is essentially the StarWind Virtual SAN instance on the other host.  On the ESXi host end of things, the software iSCSI initiator is used and binds multiple paths to the iSCSI target together, with each path pointing to a different StarWind Virtual SAN instance.  When looking at it from a physical mapping we see StarWind utilize 2 NICs on each ESXi host for their synchronization/replication traffic, as well as 1 NIC for their heartbeating/failover mechanisms.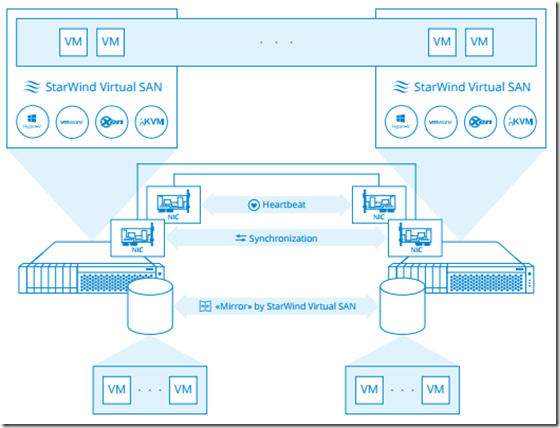 Aside from availability StarWind Virtual SAN offers a lot more as well – too much really to go over in this post but could possible use a post of its own.  In terms of my favorites check out the following list.
Server-Side Cache – RAM and flash-based devices are utilized to provide performance in terms of write-back caching, which in turn reduces I/O latency and eliminates a lot of useless network traffic.  These caches, well, they are also synchronized between hosts so we aren't left in a situation that could result in data loss.
Scale – StarWind can scale in multiple ways including both up and out.  We can scale up by simply increasing the number of drives and spindles that we have within each node.  Scaling out is achieved by adding another node complete with StarWind Virtual SAN which in turn gives us capacity, as well as CPU and Memory to our cluster.
Deduplication and Compression – Most physical arrays are deploying this in some fashion these days and even though StarWind Virtual SAN is software-based we can still get the capacity and I/O advantages that are offered through built-in inline deduplication and compression.
Snapshots – LUN based snapshots are provided within StarWind Virtual SAN and cold data can also be redirected to a less expensive, secondary storage tier if need be.
Future integration with VVOLs now in tech preview.
Data Protection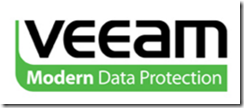 Be it the StarWind HCA is doing a great job at providing availability for your production data locally there are still times where corruption, or user-generated events happen and a backup need be called upon to save the day.  StarWind doesn't have a backup solution of their own so in a true "best of breed" mentality they have went out and selected Veeam as their preferred partner to provide data protection within the HCA solution.   If customers opt to purchase Veeam with the StarWind HCA, it means that Veeam Backup & Replication (currently v8) will come pre-installed and fully configured along with all the other software – the only thing that the customer has left to do is add some backup storage and setup the backup jobs.
Support
Another huge benefit of going with the StarWind HCA comes in terms of support.  Although the StarWind HCA contains various pieces from different vendors (StarWind, VMware, Veeam, Dell) all of the support and maintenance is processed under one SKU, leaving the customer with only one number to dial when needing some help.  This eliminates all of the "he said, she said" and finger-pointing that sometimes happen when dealing with multiple vendors support on their own.  All support is handled by StarWind Software, and is provided 24/7, 365 days a year.
What does it look like in the end?
When you purchase a StarWind 2 node HCA you can expect to see something similar to the following diagram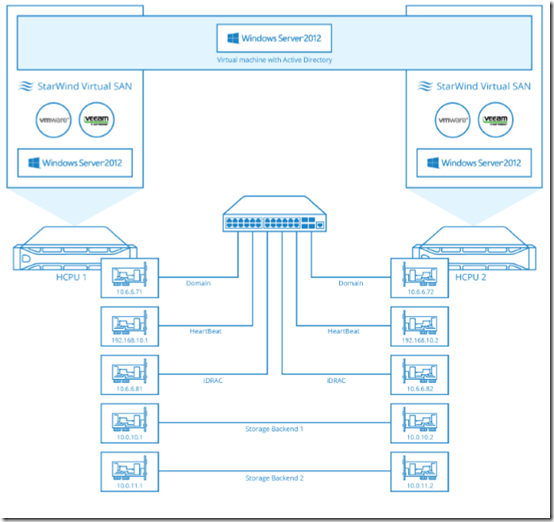 First up, 2 nodes, preinstalled with ESXi and fully configured.  On top of those we have a StarWind Virtual SAN node on each host, which claims all of the local storage and presents it back to the corresponding ESXi hosts in a fully replicated, highly available manner.  The key to the whole solution is that when the units are shipped to you they are completely configured and ready to go, with 4 preconfigured VMs (vCenter, StarWind Virtual SAN x2, and Veeam) – all you have to do is start deploying virtual machines and supporting your business.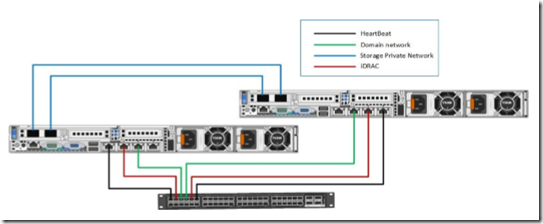 As far as networking goes it will all be preconfigured for us, with the exception of the domain network (management/production) which would be specific to your business.  We can see that we have dedicated links for the heartbeating mechanisms (the magic behind Virtual SANs failover mechanism as well as dedicated links to handle the storage replication – the magic behind availability.
So what do I think…
StarWind has been in the software SAN game for a long time and it's nice to see them start to provide a complete solution including the hardware and configuration as well.  Hyperconvergence is a great solution, which fits perfectly into the SMB space – however solutions today seem to be priced outside of what an SMB can afford.  StarWind has placed their hyperconverged solution at a price in which the SMB can handle – and provided a complete solution, including the hardware, software, hypervisor, and data protection – all under one support umbrella.  This is StarWinds first generation of their HCA so I'm excited to see where they go from here – I've already been told that they are previewing support for features such as VMware's VVOLs so work is still being done.  In fact, it seams to me that a lot of the features we see on traditional hardware based arrays are also being supported on StarWinds software based Virtual SAN.  The StarWind HCA is a very easy solution to use – essentially it's just vSphere and requires no configuration from the clients end.  In the end my overall experience with the StarWind HCA has been a good one!    StarWind HCA not only brings simplicity with their appliance, but also choice!  Customers can chose to utilize new or refurbished hardware, or simply roll their own install.  They can chose to include Veeam within their HCA deployment or go some other route!  They can chose to scale up or scale out depending on their needs  Choice and simplicity is key when it comes to providing a solution to SMB as they don't normally have the IT resources, budget or time to spend on training and deployment.  The StarWind HCA is certainly a viable option for those small businesses that fit that description, looking to deploy an easy to use, highly available hyperconverged solution that can grow and shrink as they do at a fraction of the cost of other solutions out there today.
If you would like to learn more about StarWinds HCA you can do so here – also, they offer a fully functioning trial version and also a free version of StarWind Virtual SAN – the backbone of the HCA.  Also, if you are a StarWind HCA or a StarWind Virtual SAN user I'd love to hear your thoughts – simply use the comment boxes below for any questions, concerns, comments, etc..